"By doing what I enjoy most, I can really focus on providing my clients with the highest quality workmanship," Brad Freer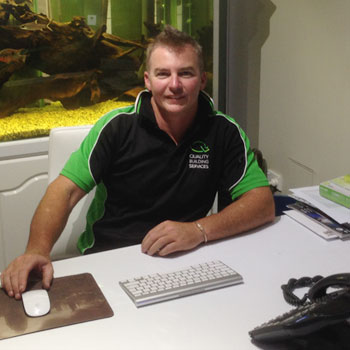 Quality Building Services (QBS) is a boutique building company based in Canberra, specialising in renovations, new home constructions, double glazing and outdoor living solutions.
The owner of Quality Building Services is also the Builder who takes direct responsibility in ensuring your project is completed with the utmost care and attention to detail. Quality Building Services prides itself on its craftsmanship and believes that it's their customer-focused approach that truly sets them apart from other builders. The QBS team are focused on providing you with something special and in making the construction process as easy as possible for you.
Quality Building Services was founded by Director Brad Freer; a respected builder with over 25 years experience in construction, renovation, extension and carpentry in Canberra.  Brad completed his carpentry apprenticeship in 1993, after which he sub-contracted to local builders for 10 years.  This gave him a very good insight into the building process. The building journey has since continued to evolve to what it is today - Quality Building Services.
Brad works closely with a trusted network of suppliers and designers to deliver professional building services and outstanding results to his clients. Each supplier has been carefully selected over the years to ensure that their level of workmanship, materials and services match his own, exacting standards.
Brad is a "hands on" builder and understands that clients lead busy lives and makes himself available after hours for project updates and queries. Brad understands the pressures of family life with two young children but manages to take time out to enjoy his favourite pastimes are fishing, surfing and mountain bike riding.His beloved 1972 EK Holden to the Jamison markets on a Sunday. 
Quality Building Services clients have come from referrals by Canberra Architects and Draftspersons and from personal referrals from previous clients. Clients range from first home buyers to families who are building their second or third home to clients who wish to improve their lifestyle by re-creating new spaces to live.
As a community supporter, Quality Building Services is proud to have licensed and co-built the new Turner School Cubby Playground with the Turner community. This project had a specific brief to deliver a play space that suited the individual needs of all student groups, as well as being environmentally sustainable over time.
"Brad provided expertise, foresight and a commitment to the Turner School Community that has created a unique play space that generations of children will enjoy for years to come." James Turvey, Turner School Parents and Citizens President
How will you benefit by choosing Quality Building Services?
QBS is a NSW/ACT A Class licensed building company and member of the MBA which promotes the highest possible standards in the ACT building industry

QBS guarantee their workmanship for 10 years

At QBS, the approved quote is the final price, with no unexpected surprises. Quality Building Services explain every aspect of your project in details so that you have a full understanding of costs

All QBS projects run to a detailed schedule to ensure your project is finished on time

QBS employs only quality tradesmen and understand the high quality service that is required of them. No corner is ever cut and unlike other homes that are mass produced, your home is unique with the extra touches you want to make it feel special

QBS can help you save money through their knowledge of the Canberra building industry and can also assist with the selection of all your interior design requirements

QBS provide an obligation free quote including quality building advice for all Project Management and Fixed-Price projects